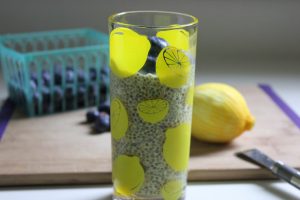 Talk about a breakfast treat: this protein-rich easy breakfast will get your day off to a bright start. As a bonus, it's ready in just 5 minutes!
Serves 1
Time: 5 minutes to prepare; should be refrigerated for at least 4 hours before enjoying
Ingredients
1 cup soy, almond, or coconut milk
1/4 cup chia seeds
1 tablespoon lemon juice or 1/2 teaspoon lemon
zest of one lemon
2 tablespoons agave or maple syrup
1/4 teaspoon turmeric, optional
Instructions
In a bowl or mason jar, combine all ingredients. Stir well, cover, and refrigerate for 4 hours or overnight.
Mix it up: Add a tablespoon of jam or toss in a handful of blueberries to the top and stir in before you enjoy.